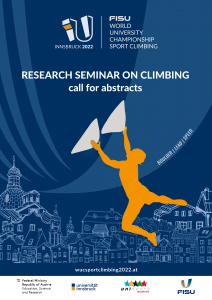 In the last few years, climbing has established itself as an important area in the world of sports and even became part of the Olympics in Tokyo 2021 for the first time. Climbing is a multifaceted sport, addressing biomechanical, medical, training-related, educational and economic fields.
The University of Innsbruck is pleased to host the Research Seminar on Climbing and welcome its participants according to the motto 'Research meets Climbing', covering all climbingrelated scientific areas.
The Research Seminar will take place in Innsbruck, Austria on Wednesday June 15th, 2022 and is organized by the Department of Sport Science of the University of Innsbruck and the University Sports Institute Innsbruck as part of the FISU World University Championship Sport Climbing.